Encre Noire à l'Extrême by Lalique
Within the men's fragrance selection from Lalique, the perfume Encre Noire, launched in 2006, has be…
Learn more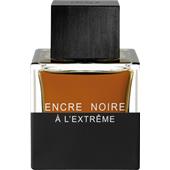 LaliqueEncre Noire à l'Extrême Eau de Parfum Spray
BP: €1,079.50* / 1000 ml
5/5 AggregateRating
Encre Noire à l'Extrême Men's fragrances by Lalique
Within the men's fragrance selection from Lalique, the perfume Encre Noire, launched in 2006, has become a much-loved classic. In 2015, the label launched an even more powerful variation of the successful fragrance: Encre Noire à l'Extrême. With it, the characteristics of the fragrance classic Encre Noire are taken to new extremes: Encre Noire à l'Extrême is an opulent, dark and extraordinarily masculine fragrance, which unfolds an extremely seductive effect with its intensively woody and smoky notes. Its elegant character is underlined by the minimalistic design of the bottle: The half-way transparent glass cube with its solid wooden lid reminds of an inkwell.
Sensuous, powerful men's fragrances in a class of their own
Encre Noire à l'Extrême is a perfume for special occasions. The sophisticated, long-lasting fragrance ensures the wearer an impressive, almost dramatic, entrance, every time. The top note presents itself exciting and contrasting with cypress, bergamot and elemi wood since the fresh aroma of the bergamot is a counterpoint to the intensively woody and resiny aromas. This game of contrasts continues in the middle note: The dark, smoky and bitter nuance of frankincense and vetiver are complemented and lightened by an elegant iris chord. Sandalwood and benzoin in the base note reinforce the strong, opulent character of the fragrance and provide it with a long-lasting presence. Encre Noire à l'Extrême from the House of Lalique is an irresistible, seductive perfume and a prime example of a sensuous and intense men's fragrance.