To Be Woman by Police
A perfume for women who love the unusual:
Police To Be Woman
proves even at first sight that …
Learn more
To Be Woman Women's fragrances by Police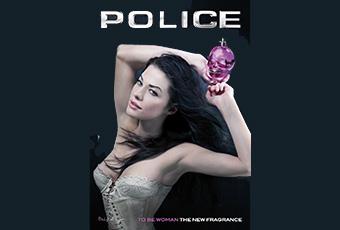 A perfume for women who love the unusual: Police To Be Woman proves even at first sight that it represents something special in the world of women's fragrances. The fragrance comes in a skull-shaped bottle and presents itself as self-confident and very rock'n'roll. And this first perfume for women from the Police label was made with self-confident women in mind. The eau de parfum smells fruity and tingly, with a top note of clementine, green apple and lime. The middle note unfolds the sensual aromas of dark chocolate, strawberries, jasmine, candy sugar and caramel. The base note is formed by sandalwood, cedarwood and musk, which give the scent its rounded character.
A fruity and sensual fragrance
Fruity and yet sensual women's fragrances like Police - To Be Woman are ideal for spring and summer, and are the perfect daytime perfume. Police presents its first women's fragrance since 2012. If you love the women's fragrances from Police, treat yourself to the pampering body lotion in addition to the skull in pink. The body lotion matches perfectly to this favourite fragrance. High-quality, nourishing ingredients leave the skin soft and silky whilst the delicious scent of To Be Woman envelopes your whole body, light and not overpowering. Aside from anything else, the rocking skull design is a great eye-catcher in the bathroom.