Eau Tropicale by Sisley
Like a day in a tropical paradise – this is the motto of the fragrance developed in 2014 by Isabelle…
Learn more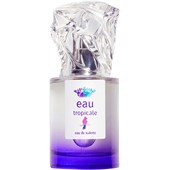 SisleyEau Tropicale Eau de Toilette Spray
BP: €1,598.33* / 1000 ml
3,5/5 AggregateRating
Eau Tropicale Women's fragrances by Sisley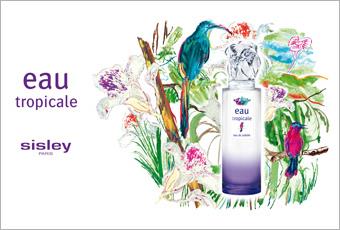 Like a day in a tropical paradise – this is the motto of the fragrance developed in 2014 by Isabelle d'Ornano, created for the well-known fashion brand Sisley. The perfume from the Eau Tropicale range is presented in an elongated flaçon with a purple and white colour scheme and an elegant crystal cap. The women's fragrances in the range radiate through the exotic floral bouquet in an open, friendly and very light aura, meaning the fragrance is also perfectly suited for the warmest season of the year. Just a few sprays on the skin are enough to evoke a feeling of exoticness and balmy sounds of the tropics.
A tropical work of art from Sisley
Eau Tropicale starts with a combination of hibiscus with ginger blossom and passion fruit. This natural composition is wrapped in zesty bergamot and pleasant frangipani in the same note in the women's fragrances. In the heart, the multifaceted effectiveness of tuberose is seen when it is combined with the strong Turkish rose and mild violet. The base note is a warm and wonderfully natural interplay between cedar, patchouli and ambrette seeds. The result is a first-class perfume for spring and summer.