Professional by ALCINA
The Professional haircare line from Alcina offers a selection of high-quality styling products for e…
Learn more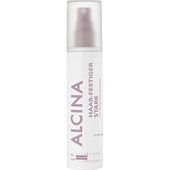 ALCINAProfessional Hair Setting Lotion Strong Hold
€8.00
/ 125 ml
BP: €64.00* / 1000 ml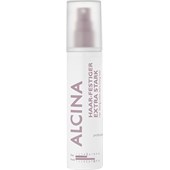 ALCINAProfessional Hair Setting Lotion Extra Strong Hold
€8.25
/ 125 ml
BP: €66.00* / 1000 ml
ALCINAProfessional Non-aerosol Hair Lacquer
€52.43
/ 1200 ml
BP: €43.69* / 1000 ml
5/5 AggregateRating
Professional Hair styling by ALCINA
The Professional haircare line from Alcina offers a selection of high-quality styling products for every hair length. From shine spray through to hairspray right through to extra strong hair gel, you'll find everything you need here for every styling requirement. The Salon Haircare range from Alcina Professional provides the perfect finish and is highly recommended for unusual styling ideas. Get creative and put together exactly the style that suits you! In the Alcina Professional line, you have the choice between various flex and hold factors on a scale of 1 to 10. Whether you want flexible hold or a rock hard set, the styling series has everything you need and will impress with the easy application.
Attractive styling just like at the salon
With the Alcina Professional haircare series, you'll find everything you need for super styling and finish. The products can be used on dry or wet hair and will delight with their discreet fragrance. For long-lasting hold, the aerosol hairspray is highly recommended. This styling product holds your style in place and can be brushed out easily again. The volume foam provides for fuller hair with natural movement and beautiful shine. This product cares for the hair with precious ingredients and offers elastic hold. The styling series also includes a blow-dry lotion so you can magic up classic blow-dry styles. The spray lotion protects the hair from the heat of the dryer and provides the style with more elasticity.