Room spray by Acqua di Parma
The smell of a room has a definite effect on your well-being. With a
room spray by Acqua di Parma… Learn more
Room spray Accessories by Acqua di Parma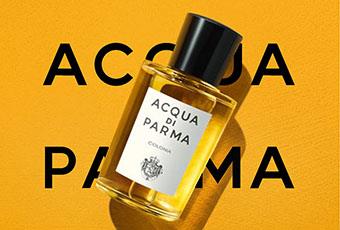 Room sprays by Acqua di Parma revive the senses
The smell of a room has a definite effect on your well-being. With a room spray by Acqua di Parma, you can change the atmosphere of your apartment in a positive way. It is important to use a scent, which is unobtrusive and light. This results in a harmonious atmosphere. Room fragrances are lifestyle accessories, which can evoke a particular memory, or just create a good atmosphere. Discover the different magical scents and find your own personal room fragrance!
The Room Spray Collection with Italian elegance and lightness
You can choose from five different scents, so you can change the scent atmosphere of your room to your taste. The room sprays by the manufacturer Acqua di Parma have luxurious packaging and are of excellent quality. Overall, it is a calm elegance, which can only be found in Italy. The exclusive scents for your apartment fulfill all expectations, which you have placed for modern accessories.