Mandorlo di Sicilia by Acqua di Parma
With
Mandorlo di Sicilia
, the renowned brand manufacturer Acqua di Parma has succeeded in cre…
Learn more
Acqua di ParmaMandorlo di SiciliaBlu MediterraneoEau de Toilette Spray
BP: €163.17* / 100 ml
Mandorlo di Sicilia Unisex fragrances by Acqua di Parma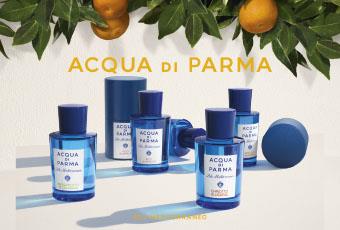 With Mandorlo di Sicilia, the renowned brand manufacturer Acqua di Parma has succeeded in creating a perfume, which sets accents with its uniqueness. The unisex fragrance of the quality manufacturer awakens memories of the sunny landscape of Italy. Sea breezes or sunny beach aromas: With Mandorlo di Sicilia, you can profit from a unique product, which invites you feel comfortable and relaxed.
A Mediterranean fragrance with its own unique character
Acqua di Parma pays attention to creating an unmistakable character when compiling its scents. Sicily is known for its fantastic fauna and flora. Traditional customs, typical national cuisine and the locals' zest for life will be evoked with the unisex flavour for everyone. In this way, the joie de vivre of the sunny holiday destination can be enjoyed even on dreary days!