Red Sin by Christina Aguilera
The Red Sin range by pop star Christina Aguilera stands for
sensual, thrilling and electrifying … Learn more
4/5 AggregateRating
Red Sin Women's fragrances by Christina Aguilera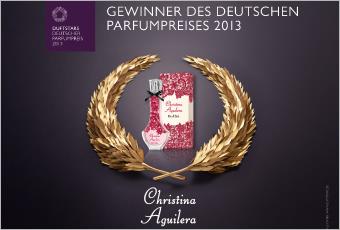 The Red Sin range by pop star Christina Aguilera stands for sensual, thrilling and electrifying seduction. In recent years, Christian Aguilera has advanced beyond her calling in the world of pop stardom; she's become a Hollywood style icon and has conceptualised and successfully marketed her own women's fragrances. Just like Red Sin perfume which distinguishes itself with its irrepressible self-confidence and seductive, refined nature. Sex appeal takes on a whole new meaning in this range, and is embodied to perfection in every single product.
Pure romance and passion
The Red Sin range by Christina Aguilera was released in 2012 which set the ball rolling for the perfume of the same name. In the meantime, various products have been released under the name of this range, all of which have the same electrifying and passionate fragrance. From the body lotion and shower gel to the deodorant spray, this range has become a reflection of the strong and self-confident woman. The fragrance's top notes thrill you with red apple and cinnamon, the heart notes with Alpine violets, and the base notes with red ginger, sandalwood and musk.