Intense by Dolce&Gabbana
Intense by Dolce&Gabbana is the intensive version of the popular Pour Femme. The perfume fragrance i…
Learn more
Intense Women's fragrances by Dolce&Gabbana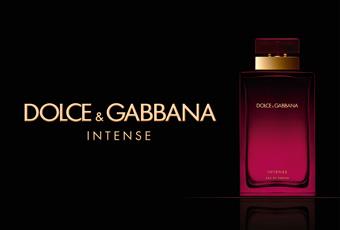 Intense by Dolce&Gabbana is the intensive version of the popular Pour Femme. The perfume fragrance is even more seductive than its predecessor and captivates due to unique fragrance elements. Fresh mandarins harmonise with neroli in the top note of these women's fragrances, whereas tuberose and sumptuous orange blossom dominate in the heart. The sensuous Intense base note contains nuances of marshmallow and sandalwood.This elegant perfume by Dolce&Gabbana is perfect for self-confident women who like to underscore their femininity. The fragrance exudes elegance and luxury, without being too obtrusive.As is customary for women's fragrances from the House of Dolce&Gabbana, the Intense flacon is simple but yet timelessly elegant. It is similar to the one for Pour Femme, but its darker colour indicates that the content is a more intensive version.
Feminine, sensuous and uniquely seductive
The Milanese designer duo, Domenico Dolce & Stefano Gabbana, have been impressing women all around the globe with their women's fragrances since 1985. The two are known for combining passion and love and producing creations that are sensuous and Mediterranean, couture and innovative, ingenious and glamorous, as well as luxurious and creative, all at the same time.The brand style is seductive but on no account obtrusive. The company is extremely successful in distributing luxury goods of the entire fashion sector, including numerous women's fragrances, such as this perfume, and thus understands how to constantly and repeatedly surprise. While the strategic mind of the duo shines time and time again with trend-setting ideas, the creative mind of the two fires up the fashion world with his creations. Perfumes of this label guarantee that life is never boring.