Wash bags by ERBE
For the style-conscious, well-groomed people of today, it is important to always store all beauty to…
Learn more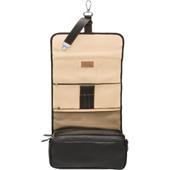 ERBEShaving accessoriesCowhide with a GrainHanging washbag, black
€236.25
/ 1 pcs.
BP: €236.25* / 1 pcs.
5/5 AggregateRating
Wash bags Erbe by ERBE
For the style-conscious, well-groomed people of today, it is important to always store all beauty tools carefully and tidily. The washbags from the
Erbe range by the manufacturer Becker Manicure
are an invaluable means of storage for cosmetics, tools and body care products of all kinds, whether travelling or at home. They are also available in smaller and larger sizes, from the practical travel case to the XXL case. The small Travel & Shave travel case, for example, is supplied with a shaving brush and a Mach 3 razor, and has enough room to easily carry all the shaving accessories you could need when on the go. The Becker Manicure washbags are available in various sizes and designs; for example, the Erbe Royal washbag XXL offers great storage space for longer journeys. Each washbag magnificently boasts a distinctive leather design and is suitable for both men and women to cleanly and neatly store all important cosmetic items away when on the go.