Nerocacao by ZeroMoleCole
The Nerocacao from the collection of unisex fragrances by Zeromolecole already hints in the name whi…
Learn more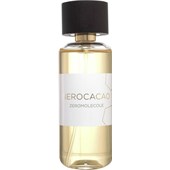 ZeroMoleColeNerocacao Eau de Parfum Spray
BP: €1,700.00* / 1000 ml
5/5 AggregateRating
Nerocacao Unisex fragrances by ZeroMoleCole
The Nerocacao from the collection of unisex fragrances by Zeromolecole already hints in the name which aromas can be expected. Centre stage is the scent of chocolate, which reminds of irresistable treats or a cup of hot cocoa. Sweet vanilla, a pinch of zesty orange peel and an exotic hint of coconut also feature. Thus the composition presents a multifaceted bouquet and invites many different associations. The little company has distinguished itself with big creativity for unisex fragrances that invoke a myriad of pleasures with one sniff of this creation.
Extraordinary glimpses into the soul of an Italian perfume lover


This connection to the personality of the perfumer is completely intentional and forms the philosophy of ZeroMoleCole. It's all about the unforgettable experiences and important people that shape the individual character. It's hardly surprising that the perfume reminds of gently melting sweeties. The family shop in which Stefania Marzufero Boni designs and produces her unisex fragrances lies in the heart of Turin. The city in the north-west of Italy has been renowned for its first-class chocolatiers for hundreds of years. So all at once, the perfume is balsam for the soul, a declaration of love for the hometown of the maker and a homage to exquisite creations made of chocolate. This means that gourmets will be just as thrilled by this perfume as lovers of inspiring fragrances.