Nuvole by ZeroMoleCole
Like all unisex fragrances by Zeromolecole the Nuvole perfume is like a
key to a treasure chest o… Learn more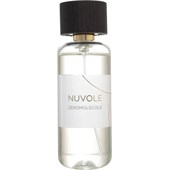 ZeroMoleColeNuvole Eau de Parfum Spray
BP: €1,700.00* / 1000 ml
5/5 AggregateRating
Nuvole Unisex fragrances by ZeroMoleCole
Like all unisex fragrances by Zeromolecole the Nuvole perfume is like a key to a treasure chest of beautiful memories. Fine ladies of the older generation delight with an indescribable charisma and a beauty that comes from a genuine warmth, nostalgia and a love for closely-guarded treasures. The perfumer Stefania Marzufero Boni captures a moment of her childhood in her creation Nuvole: On a visit to granny, she opens a wooden wardrobe, whose contents are shaped by an orderliness, cleanness, various eras and a typical bouquet. With the creation of the unisex fragrances, the Italian perfume designer wanted to capture the emotions and characteristics of both generations represented in the scene.
Perfume with subtle elegance and class
A hint of lavender reminds of the little scented bags between the clothes. For hundreds of years, the magnificent frangipani has been delighting fans of soothing essences and has shaped classical perfumes with the aroma of its petals. White musk also successfully reflects the emotional facets like the dignified aura of a woman. If you love the adventure of life, discover the world with curiosity but set great value by tradition, the Nuvole perfume is perfect for you. The unisex perfumes by Zeromolecole are created in a unique atmosphere in a family boutique in the heart of Turin. It was there that Stefania developed her passion for olfactory masterpieces, which is now reflected in her own collection. The artist purposely decides on compositions which have a very intimate effect and give insight to her personality.