Jacquard by Etro
The Milanese family-run company ETRO, founded by Gimmo Etro in 1968, is known all over the world. It…
Learn more
Jacquard Women's fragrances by Etro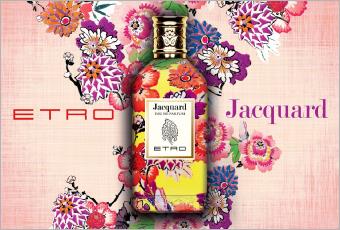 The Milanese family-run company ETRO, founded by Gimmo Etro in 1968, is known all over the world. It not only stands for colourful, extraordinary fashion and high-quality leather goods, but also for excellent women's fragrances. Each of these fragrances is something special, but can be ideally combined: The women's fragrances can be worn both individually and combined with other creations by the famous label. The sky's the limit as far as inspiration is concerned: So-called fragrance layering allows individual women's fragrances to be invented, which are perfectly reconciled with personal taste and are clearly set apart from the masses. One of the seductive ETRO fragrances is the multifaceted Jacquard Perfume.
Jacquard - a perfume with secretive nuances
With the Jaquard Perfume, ETRO tells a moving story: The extraordinary composition should be viewed as an homage relating to the old tradition of weaving. To a world full of magic - and in which the roots of hand-crafted arts are securely lodged. Fragrances like this one intrinsically combine numerous fascinating fragrances and arouse exotic longings. They stand for passionate seduction and are an expression of a self-confident femininity, which can be both tender and unfettering.Jacquard is extremely multifaceted and contains many fine nuances. A mixture of angelica root, bergamot, elemi oil and black pepper ensures a successful overture. It permeates the senses and allows the complex heart note nuances sufficient room. Here, the notes of iris butter, jasmine sambac and ylang ylang combine with the expressive aromas of sandalwood and vetiver to unfurl a beguiling effect. The long-lasting finale is formed by the essences of wood, musk and violet.