Eye care Facial care by Korres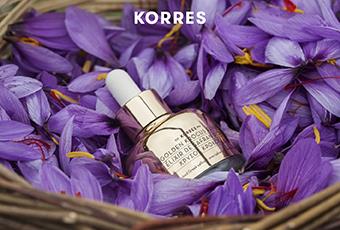 Fantastically beautiful, bright and seductive eyes? From an esoteric perspective, the eyes are often described as the mirror of the soul. At the same time, a nurtured area around the eyes can also radiate health and energy, while women with radiantly beautiful eyes are capable of impressing not only the opposite sex. The Greek luxury brand Korres thus carries an assortment of various eye care products that can be used individually and in combination. The cosmetics often have a light sun protection to prevent the very thin skin in the eye area being stressed and/or drying out due to too intensive UV rays.
Facial care - preferably as a set or individually?
The eye care from the House of Korres is available both individually and in various sets. The Greek brand uses various fragrance nuances, for instance wild rose or a very naturally seeming woody fragrance. Packaged in the gift set, the cosmetic is also perfect as a little or large something for your dear ones. Various facial care products firm the skin in the area around the eyes, make ugly discolourations or circles under the eyes disappear and hydrate the relatively thin skin so it preserves its natural elasticity.