Oud Pour Elle by Alyssa Ashley
With Oud Pour Elle, Alyssa Ashley succeeded in creating a stunning range of fragrances that have bee…
Learn more!
Oud Pour Elle Women's fragrances by Alyssa Ashley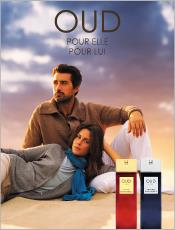 With Oud Pour Elle, Alyssa Ashley succeeded in creating a stunning range of fragrances that have been capturing the senses of women across the globe since 2012. As with almost all Alyssa Ashley women's fragrances, this perfume excites with its spicy, multi-faceted ingredients, which produce a mature, adult scent appreciated by experts and consumers alike. The Eau de Parfum in the range comes in a ruby-red bottle with gold top, serving as the prelude to a legendary voyage to the land of the Orient.
Women's fragrances for ladies with high expectations
The Oud Pour Elle line by Alyssa Ashley is perfect for women selectively seeking out fragrances that are a little more out of the ordinary. The top note reveals Calabrian bergamot and wild plum, coupled with the fresh aroma of Sicilian lemon. The line uses Indian heliotrope, black tea and Moroccan rose oil as a heart note, with the base finally unveiling Indian sandalwood, precious oud and black musk. The result is an international and distinctive fragrance appreciated most highly by women with high expectations.