Lipliner by Da Vinci
A pout, gentle lips and an invitingly kissable mouth are what all women desire. With the expert
D… Learn more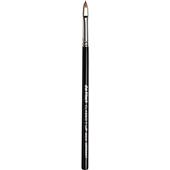 Da VinciLipliner Lip Liner, Russian red marten hair
€13.56
/ 1 pcs.
BP: €13.56* / 1 pcs.
5/5 AggregateRating
Lipliner Classic by Da Vinci
A pout, gentle lips and an invitingly kissable mouth are what all women desire. With the expert Da Vinci brand, you can do all of this easily at home. The Classic Lipliners are made of high-quality materials which at the same time use special types of hair. Red marten hair, for example, is exclusively used, making applying make-up particularly easy.
Like an artist
Applying your own make-up discreetly but effectively is not always easy. However, with the Lipliner you have the right tool for a perfect mouth. Gentle contours are instantly no longer a dream. Add a dash of beauty and a wonderful appearance to the everyday with Da Vinci.