Contour brushes by Da Vinci
For an attractive appearance of the eyes and lips, it is essential to accentuate the natural contour…
Learn more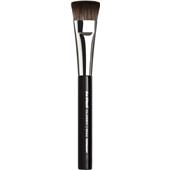 Da VinciContour brushes Counter Brush, flat, with extra fine, full synthetic fibres
BP: €23.95* / 1 pcs.
5/5 AggregateRating
Contour brushes Classic by Da Vinci
For an attractive appearance of the eyes and lips, it is essential to accentuate the natural contours of the face when applying make-up. Da Vinci is renowned as a specialist for brushes and other accessories for the perfect application of cosmetics and includes special contour brushes in its Classic product line. This edition of products comprises all basic brushes and tools required for applying make-up at home or in professional make-up studios. Made from particularly fine, flat man-made fibres, the brand's contour brushes allow the precise application of colour and provide perfect results time after time. The special shape allows the brush to reach every curve of the face effortlessly and in continuous, long strokes.
Get to know the variety of cosmetic brushes with Da Vinci
Despite it's very fine appearance, the contour brushes from the Classic edition will amaze with the amount of colour they can leave on the skin thanks to their voluminous fibres, making reapplication of the cosmetics unnecessary. Their convenient format means that the brushes can be stowed easily with your favourite make-up in your handbag, allowing you to benefit from the top-quality of Da Vinci even when you go on holiday. You'll also find countless other brushes and tools of the Classic edition in our range to provide you with a radiant smile and uniquely expressive eyes on every occasion. You'll find fair prices for Da Vinci's huge range of products and more when you order online, helping you to get to know top-quality cosmetics from world-renowned brand names!