Masks by Declaré
The facial masks from Declaré produce a
revitalised skin that is soft to the touch
. Masks are…
Learn more!
Masks Skin care by Declaré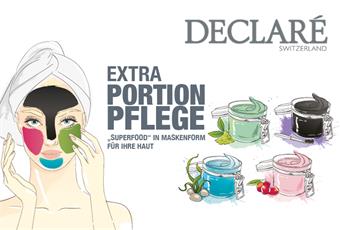 The facial masks from Declaré produce a revitalised skin that is soft to the touch. Masks are designed, depending on the product in question, either for the whole face or for parts of the face, such as the delicate eye area. They are simply placed on the face where they are absorbed in a short time, and are then rinsed off with clear water. The cosmetics range of the French manufacturer are known for being well-tolerated by different skin types, for being innovative and for producing excellent results, frequently after relatively short usage periods.
Product diversity for radiant and beautiful skin
Masks from Declaré are sold as single applications or in packs; what's more, they come ready-mixed so that they can go straight from the pack onto the skin. In general, skincare masks tend to contain hydrating and soothing ingredients that calm the skin and provide it with plenty of hydration. This gets rid of annoying tight-feeling skin that is a common occurrence when the skin is stressed or during the colder months of the year. The quality care products are suitable for all skin types and age groups, and can also be used by men.