Master Caviar by Juvena
The Swiss company Juvena is dedicated to making exclusive cosmetic products. Whether you're looking …
Learn more
4,5/5 AggregateRating
Master Caviar Skin care by Juvena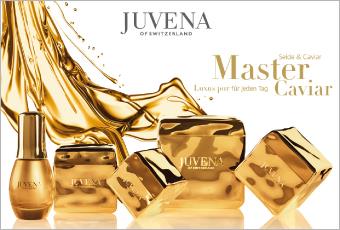 The Swiss company Juvena is dedicated to making exclusive cosmetic products. Whether you're looking for a product that rehydrates, firms or soothes - the skin care products from the House of Juvena give your skin everything it needs to have a youthful radiance. Sophisticated and trend-setting anti-ageing care products go hand in hand with high standards of quality in these luxurious products.
Master Caviar - the range of care products for a complete and luxurious feeling on your skin
The exclusive range of care products by Juvena will inspire you as it sets new standards in terms of the care it provides thanks to its combination of innovative SkinNova SC Technology and an active ingredient complex made up of caviar and silk. Experience a complete feeling on your skin and firm facial contours that are full of youthful vibrancy. The highly effective Master Caviar range of care products enriches your skin with precious minerals, proteins and trace elements. Selected oils and hyaluronic acid increase the resistance of your skin, improving your skin's moisture content with a long-lasting effect. The cosmetic products in the range stimulate cell growth and visibly improve the quality of your skin. Alongside the highly effective Day and Night Cream, the luxuriously designed range of care products is rounded off by a rich Body Butter, an Eye Cream and a Concentrate.