Skin Optimize by Juvena
The Juvena institution has been developing innovative skin care products with outstanding anti-agein…
Learn more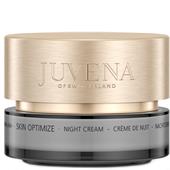 JuvenaSkin Optimize Sensitive Night Cream
€55.95
/ 50 ml
BP: €1,119.00* / 1000 ml
5/5 AggregateRating
Skin Optimize Skin care by Juvena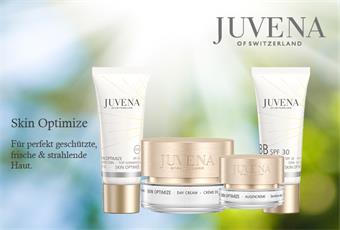 The Juvena institution has been developing innovative skin care products with outstanding anti-ageing properties according to stringent Swiss quality standards since 1954. The Skin Optimise range of care products by this cosmetics institution has a preventative and optimising effect, ensuring skin that is fresh, protected and radiant. By using the Night and Day Creams, Eye Cream and Fluids, women with high demands are able to alleviate the appearance of initial fine lines and wrinkles and also benefit from a wonderfully pleasant feeling on their skin too. The range of care products is based on the exclusive SkinNova SC Technology by Juvena and demonstrably improves the quality of your skin.
Optimised and nourished facial skin with Skin Optimise
The fragrance-free range of cosmetic products by the Swiss institution has a soothing and cooling effect on your skin. This helps prevent skin irritation, and redness as well as lines and wrinkles are alleviated too. Tinted Face Creams also form part of this range of facial care products, helping to support your daily make-up routine. The cosmetic creams produced using Juvena's SkinNova SC Technology add a delicate tint to the facial skin around your eye and have SPF properties against harmful UVA and UVB rays. Skin Optimise is suitable for normal, mature and dry skin, and can be used on a daily basis.