Hair care by 1o1 Barbers
Beautiful hair requires intensive care
, and this applies to men just as much as to women. Hai…
Learn more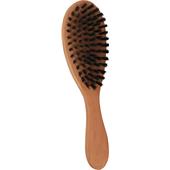 1o1 BarbersHair care Oval hairbrush with handle
€36.75
/ 1 pcs.
BP: €36.75* / 1 pcs.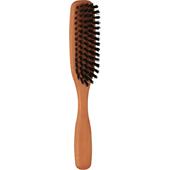 1o1 BarbersHair care Hairbrush with handle
€21.75
/ 1 pcs.
BP: €21.75* / 1 pcs.
5/5 AggregateRating
Hair care Men's skin care by 1o1 Barbers
Beautiful hair requires intensive care, and this applies to men just as much as to women. Hair care is just as important for men as facial care. Since longer hairstyles have become trendy again, hair care has been a hot topic in men's grooming in the last years alongside fragrances, creams and deodorants. Care of the hair is no longer a job for a razor; instead, a well-cut hairstyle that can be made to sit perfectly in the morning is the thing. Male grooming is not just about special shampoos and care products that are designed for men's hair: good hairbrushes should also be part of the daily grooming routine. Many men have thick hair that can be tamed with a good cut into a modern style, often with a side parting. A good hairbrush is essential. Gents & Giants provide you with top-quality hairbrushes that are specially designed to meet men's grooming needs.
Small, compact and light
- such are the hairbrushes from the Gents & Giants collection. The design is neutral so even men will be comfortable using them. The brushes have no flashy decoration, glitter or gemstones, and sit well in the hand. The brushes are robust and can also be used for thicker hair. They are made of durable plastic. The brushes are particularly suitable for styling wet hair or for styles that require the use of gel. The workmanship is top-quality. Don't go without quality care products: Treat yourself to hair care of the highest quality. Choose between different models.