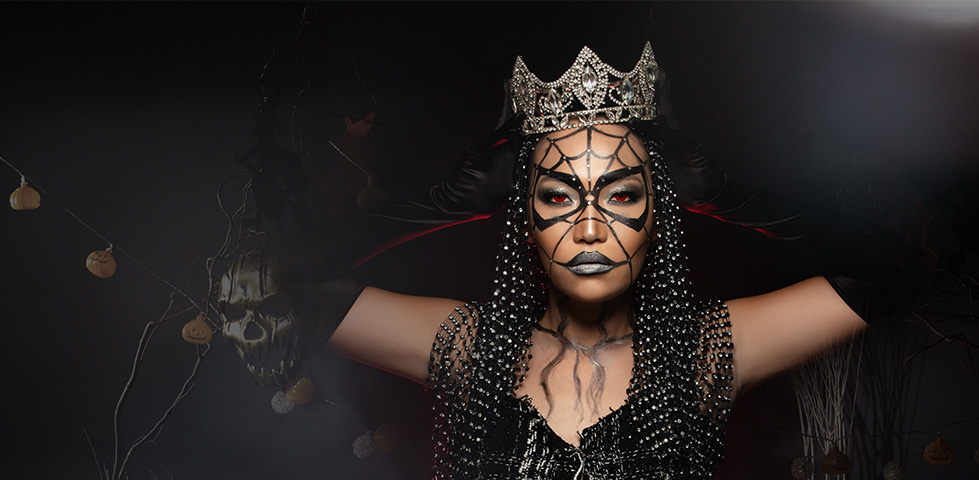 Simple Halloween make-up
In addition to a ghoulishly beautiful costume, Halloween also calls for the right make-up. But this often requires a lot of experience and dexterity when it comes to make-up. **In this article, we show you how to create a scary Halloween make-up even as a beginner.
19 January 2023
This is what you need for the perfect scary make-up
Before you get down to work, make sure you have the right equipment for your simple Halloween make-up:
Face cream: To prevent your skin from drying out and to make the make-up easier to apply, you should first use a face cream or make-up base before applying the make-up.

Light make-up:** A light make-up, which is about two shades lighter than your normal make-up, serves as the basis for the perfect scary make-up.

Dark eye shadows: Dark eye shadows in black, brown or grey are used to make up dark shadows and dark circles under the eyes. The perfect base for a spooky Halloween make-up can be a wicked smokey eye look, for example.

Kajal: You can create a particularly spooky look with a kajal pencil. A soft kajal is excellent because it smudges easily. You can also use it to create different spooky details. You will definitely need a black kohl pencil. However, kohl pencils in grey, red or purple are also ideal for creating a spooky look.

Lipstick:** A dark red or black lipstick adds an eerie touch to your Halloween make-up.

Fake blood:** When applying the perfect Halloween make-up, fake blood is of course a must.
Simple make-up ideas for Halloween
Once you've got the essentials for your Halloween make-up, you're ready to go. Here are four simple but extremely effective make-up ideas for Halloween:
Fresh blood: Whether on the lips, the eyes or anywhere else on the face, fresh blood is the perfect finishing touch to any Halloween make-up. Artificial blood is particularly suitable for this. But you can also use a red lip gloss to create creepy blood-drop gradients.

Open wounds:** In addition to blood drops, you can also use fake blood to make up gaping wounds that can really scare your best friend or your mother. As an alternative to fake blood, you can also use a lipstick or kohl pencil with an intense red shade.

Eye rims:** Dark eye rims give an extra creepy effect. For this, apply black eyeshadow generously but unevenly around the eye. For an extra sick look, add blue eyeshadow.

When you apply black or grey eyeshadow to the cheek area, you create an emaciated look that is truly scary.
In addition to the Halloween make-up ideas already presented, the vampire look, the horror doll and the spider queen are also ideal for Halloween make-up. These can be made up easily and quickly, even from beginners.
The Vampire Look
The vampire look is particularly popular for Halloween and really easy to make up. Depending on your personal preference, first apply a large area of white theatre make-up or light make-up for a naturally pale complexion to the face. As soon as an even pallor has been achieved, dab the make-up off with baby powder.
Next, make up bloodshot eyes with red eye shadow or fake blood. Then apply dark brown or black eye shadow around your eyes. Dark eye shadow is also used underneath the cheekbones, which makes the cheeks look as if they are sunken in. The contours of your nose, on the other hand, can be enhanced a little with dark lip shadow.
You can either use concealer to make your lips look particularly pale or alternatively apply deep red lipstick. You decide here according to your individual preference.
The horror doll
You can also apply make-up to the extremely scary horror doll without much effort. First apply your day care as usual and then the primer. After a short application time, apply foundation to the face and lips and then powder well. Use a light blush to highlight your cheeks and draw your eyebrows with a dark eyebrow pencil.
Next, outline your eyes with a black eyeliner pencil and draw freckles on your face. Finish off the horror doll look with a long-lasting lip liner in the centre of your lips.
Halloween Make-up for Women - The Spider Queen
The spider queen doesn't only look scary, but also really sexy. Even if you're a beginner, you can easily recreate this look.
After applying day care and primer, wait a short time for the care to be absorbed into the skin. Then apply a long-lasting foundation to your face. Use a dark eyeliner to create a particularly creepy and dramatic look. If you like, you can also use a red lipstick or artificial blood to add fresh blood to your lips or the corners of your eyes. Now it's time to draw large cobwebs on your cheeks. The best way to complete this look is with a faux spider in your hair.
On Halloween, in addition to a spooky costume, a scarily beautiful make-up must not be missing. In addition to very sophisticated make-up, Halloween make-up is also easy for beginners. Popular Halloween make-up ideas include the vampire look, the horror doll and the spider queen.