Whitehall by Hugh Parsons
Whitehall is one of the perfume classics from the house of Hugh Parsons, which represents
old Eng… Learn more!
Whitehall Men's fragrances by Hugh Parsons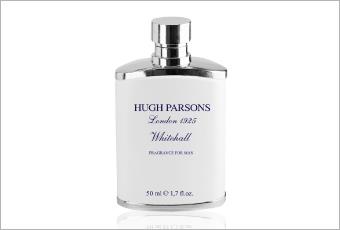 Hugh Parsons men's fragrances - very British
Whitehall is one of the perfume classics from the house of Hugh Parsons, which represents old England like no other fragrance. Although the company was founded in the early 1920s, first-class fragrances are only being created since the end of last century. The house of Parsons was founded by Hugh Edward Lancelot Parsons and his wife Gladys. In those days, it was predominantly about ties and other silk gentlemen's accessories. The elegance and British tradition, which is represented by Hugh Parsons, is naturally continued by the fragrances. One of the very classic, very subtle yet present men's fragrances is Whitehall, named after the previous residence of the British regents. In the top note, the perfume reveals itself with subtle bergamot, grapefruit and orange blossom. The heart note is spicy thanks to white and black pepper, which is rendered more mild with light geraniums. Finally, the base reveals itself with leather, patchouli, vetiver and white amber. Whitehall is a men's fragrance, which is aimed at a wearer who stands with both feet on the ground, who knows what he wants, but instead of acting in a brute manner, he acts in a more reserved way.