Listerine Mouthwash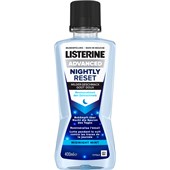 ListerineMouthwash Listerine Advanced Nightly Reset
BP: €11.23* / 1000 ml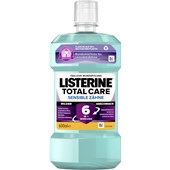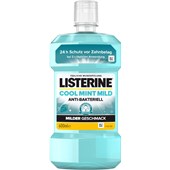 5/5 AggregateRating
Listerine: The most effective mouthwash for clean healthy teeth
Listerine is the brand to choose for effective mouthwashes. It was invented by the US chemist Dr. Joseph Lawrence in 1879. Listerine was named after the scientist Sir Joseph Lister. He was a surgeon and performed an operation in a room that had been sterilised with pulverised antiseptics.
The unique formula, which was originally used as a disinfectant, is still used today. Listerine advertises that it kills germs in the oral cavity that can cause bad breath. But the mouthwash is more than a cosmetic product for a fresh taste in the mouth. It is also an effective remedy for caries, plaque and inflammation in the oral cavity, and thus contributes to oral and dental health.
What is the Listerine formula composed of?
The formula of Listerine mouth wash is composed of four essential oils:
eucalyptus oil
menthol oil
thyme oil
methyl salicylate
What makes Listerine mouthwashes so special?
The antibacterial effect of the essential oils contained in Listerine mouthwash has been proved in a large number of studies. They make Listerine mouthwash an effective remedy for bad breath and periodontitis.
Periodontitis is inflammation of the oral cavity caused by bacteria and manifested by plaque and bleeding or swollen gums. Listerine mouthwash gets through the biofilm of the teeth, the plaque, and kills bacteria right on the surface of the teeth. This makes the mouthwash extremely effective and not for nothing a bestseller. Listerine gets to everywhere the toothbrush fails to reach.
The basic formula of Listerine has remained unchanged right up until today and is based on four essential oils. This formula has proved its worth for nearly 150 years and makes the mouthwash a product that people really trust.
Shop Listerine and do your teeth a favour
Listerine products promote healthy teeth and well-being. Fresh breath enhances positive body confidence and rinsing your teeth in between brushing is also refreshing. However, Listerine is not a substitute for cleaning your teeth but should rather enhance your daily dental care routine.
You can purchase Listerine both in-store and online. At parfumdreams you can choose from a large number of mouthwashes at great prices and have them delivered quickly to your door.