Make-up accessories by Alcina
For the
perfect make-up
, you'll need not only good cosmetics but also the right tools. The be…
Learn more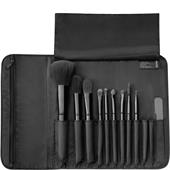 AlcinaMake-up accessories Brush set with brush bag
BP: €72.22* / 1 pcs.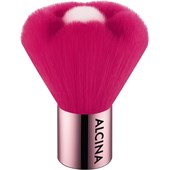 AlcinaMake-up accessoriesPretty RoseKabuki Brush
BP: €10.71* / 1 pcs.
5/5 AggregateRating
Make-up accessories Make-up by Alcina
For the perfect make-up, you'll need not only good cosmetics but also the right tools. The best face powder and the most intensive kajal pencil are useless without the possibility of applying them properly to your face. You'll only get the best of a kajal pencil's intense colour if it has been sharpened properly. Otherwise the colour will simply smear. For applying powder or blusher, you'll need a high-quality puff that will apply the make-up evenly and easily over the skin. Only then will you have the even, matt finish you want. When you buy cosmetics, it is often the case that the accessories you need for applying them are either not included or the tools supplied are not particularly effective. The Alcina Tools range offers various high-quality accessories that represent the perfect accompaniment to your make-up.
A powder brush, eyeshadow brush and other accessories for applying make-up
make easy work of getting ready for your day. Go for the brush set from the Alcina No. 1 range or select individual products suited to your own needs. You'll find the right brush for every area of your face in the high-quality range. Apply your eyeshadow with precision using the eyeshadow brush and decide on an eyelash comb to accentuate the eyes to perfection. If you have several brushes, you could store them in the high-quality leather brush case. This is particularly handy for when you are travelling or at a party.