Shampoo by Alpecin
Alpecin in the haircare expert. The different shampoos for the various needs and types of hair conta…
Learn more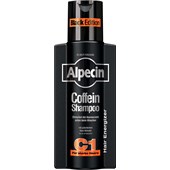 AlpecinShampooBlack EditionCaffeine Shampoo C1
€7.76
/ 250 ml
BP: €31.04* / 1000 ml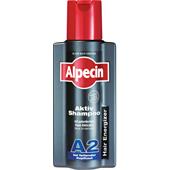 AlpecinShampoo Active Shampoo A2 - Oily scalp
€5.69
/ 250 ml
BP: €22.76* / 1000 ml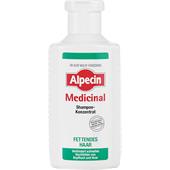 AlpecinShampoo Medicinal Shampoo for Oily Hair
BP: €48.25* / 1000 ml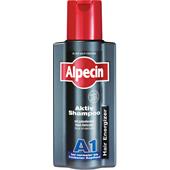 AlpecinShampoo Active Shampoo A1 - Normal scalp
€5.69
/ 250 ml
BP: €22.76* / 1000 ml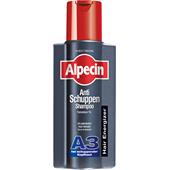 AlpecinShampoo Active Shampoo A3 - Dandruff
€5.92
/ 250 ml
BP: €23.68* / 1000 ml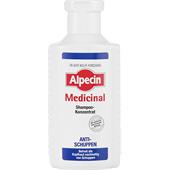 AlpecinShampoo Medicinal Shampoo for Dandruff
BP: €48.25* / 1000 ml
4,5/5 AggregateRating
Shampoo Hair care by Alpecin
Alpecin in the haircare expert. The different shampoos for the various needs and types of hair contain valuable and highly effective ingredients that care for and protect the hair. The Alpecin experts continuously develop new shampoos and care products to address the needs and wishes of their customers. The C1 caffeine shampoo has been proven to stimulate the hair roots and provides for stronger and noticeably thicker hair. The black Tuning Shampoo, which was specially developed for dark hair, also has the same effect. This haircare product with caffeine is ideal for men and women who have very fine and lifeless hair or who are suffering from hair loss. The Power Grey Shampoo, which removes yellow tones from grey hair also has the same powerful effect and stimulates hair growth.
Individual haircare for special needs
Whether you have an oily scalp or a sensitive one, whether you have dandruff or normal hair – Alpecin has a shampoo for every requirement.Carefully selected and highly effective ingredients ensure nourished and shiny hair as well as a healthy scalp. In particular, Alpecin can offer those with lifeless and thinning hair the ideal solution from the range of caffeine shampoos to stimulate hair growth. With regular use, your hair will be stronger and will be noticeably fuller and healthier. Simply trust the experts!