Alpecin
Alpecin is a haircare brand belonging to the Dr. Kurt Wolff GmbH & Co. KG company, based in Bielefel…
Learn more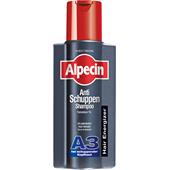 AlpecinShampoo Active Shampoo A3 - Dandruff
€5.92
/ 250 ml
BP: €23.68* / 1000 ml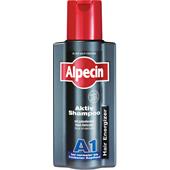 AlpecinShampoo Active Shampoo A1 - Normal scalp
€5.69
/ 250 ml
BP: €22.76* / 1000 ml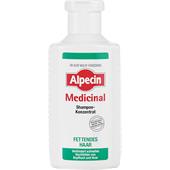 AlpecinShampoo Medicinal Shampoo for Oily Hair
BP: €48.25* / 1000 ml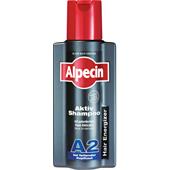 AlpecinShampoo Active Shampoo A2 - Oily scalp
€5.69
/ 250 ml
BP: €22.76* / 1000 ml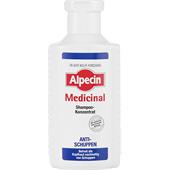 AlpecinShampoo Medicinal Shampoo for Dandruff
BP: €48.25* / 1000 ml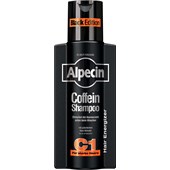 AlpecinShampooBlack EditionCaffeine Shampoo C1
€7.76
/ 250 ml
BP: €31.04* / 1000 ml
4,5/5 AggregateRating
Alpecin Haircare and Men's grooming
Alpecin is a haircare brand belonging to the Dr. Kurt Wolff GmbH & Co. KG company, based in Bielefeld. It includes products which prevent hereditary hair loss as well as those that work to control dandruff and minimise grey hairs. The company history reaches back to 1930, when they developed a special care product for the scalp and named it Alpecin. Today the brand has the greatest turnover of the whole company.
Effective solutions for individual problems
Every person is unique and every head of hair has particular needs. Different scalp types require targeted products to care for the scalp and hair whilst strengthening the hair roots. The best known active ingredient in the product line is caffeine. According to the manufacturers, caffeine promotes hair growth and halts hereditary hair loss. Alpecin also improves the structure of the hair because it doesn't contain any softeners such as silicone. In addition to the shampoo, the range includes a special caffeine liquid. This should be rubbed into the hair in the mornings to prolong the growth phases of the hair and increase the rate of growth.

It also combats dandruff with a combination of four different active ingredients. For normal to dry skin on the scalp, the manufacturer recommends its Active Shampoo, which protects the hair root with daily haircare and strengthens the hair. Also included in the range is a special product for the care of dark, grey or white hair. The colour pigments that the product contains helps to maintain the dark hair 's colour for longer or neutralises the yellow tones in greyed hair.

Even though these caffeine-based products are designed for the needs of the male scalp, the manufacturer stresses that women, too, can use them in their daily haircare routine.