Green Tea by Alyssa Ashley
The Green Tea range by Alyssa Ashley lends its women's fragrances a fresh, energetic scent with a vi…
Learn more!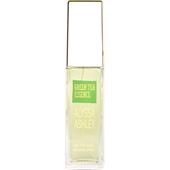 Green Tea Women's fragrances by Alyssa Ashley
The Green Tea range by Alyssa Ashley lends its women's fragrances a fresh, energetic scent with a vitalising base note of green tea. The Eau de Parfum and care products in the range, including the Body Lotion, Roll-On Deodorant and Bath & Shower Gel, were created from a fresh, peppy blend of green tea leaves and bergamot, lemon and jasmine, and violet and iris. This ultra-feminine yet peppy blend of scents makes Alyssa Ashley women's fragrances a real pick-me-up.
Fragrant chord of green teaContaining the interesting essence of green tea, this fragrance by Alyssa Ashley is available as a young and fresh Eau de Toilette Spray in bottles starting from 25 ml. The Green Tea Bath & Shower Gel, coming in a handy 500 ml bottle, gives you an invigorating kick-start to the day. Followed up with the Hand & Body Lotion from the same range, your hands and body will be left feeling wonderfully soft and supple. The Lotion comes in a 500 ml bottle. The range is topped off with a 50 ml Roll-On Deodorant.