East Coast Club Women Women's fragrances by Tom Tailor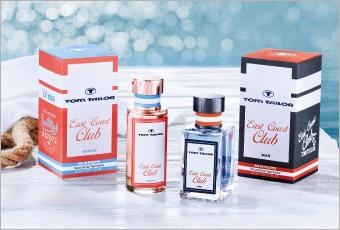 East Coast Club Women by Tom Tailor is a twin fragrance to match the men's range of the same name. Both creations place emphasis on the indescribable feeling of endless seas and beautiful beaches. The fragrance from the pleasantly gentle flaçon comes across like a beautiful sea voyage, a day by the sea or simply a walk along the Baltic or North Sea coast. The elegant perfume uses a wonderfully open and friendly fragrances to achieve this which conjures up women's fragrances using plenty of different flowers and fruits.
From the coast directly to your skin
The East Coast Club Women perfume from Tom Tailor uses a simple but effective top note of lemon. In the core notes it gets significantly more varied as tuberose, jasmine, rose and lily of the valley meet a fruity combination of raspberries, peaches and ripe plums. The base notes exude sensuous and calming women's scents of cedar and amber which have a delicately sweet atmosphere thanks to the mixed in vanilla. Apart from the fragrance, the popular brand also offers a gently cleansing Shower Gel and matching Gift Set which perfectly combines both of the individual products.
East Coast Club Women by Tom Tailor