Liquid Woman Women's fragrances by Tom Tailor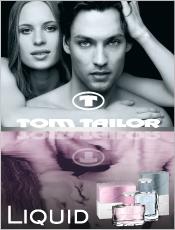 The Liquid Woman fragrance range from Tom Tailor came out in 2010 and is radiant in a pleasantly gentle pink. The titular Eau de Toilette Spray from the range skilfully unites fruity mandarins with orange, petitgrain and spicy pepper to ensure plenty of character and individualism, even in the top notes. In the core notes, feminine scents from gentle roses, orange blossoms and jasmine are used until the perfume finally reaches an established yet effective combination of sandalwood and amber in its base notes. As well as the perfume, the range also contains effective care products.
Enchanting women's fragrance and pleasant care products in one range
Tom Tailor makes use of the notes of Liquid Woman in a hydrating Body Lotion too which ensures caressable and extremely well pampered skin. The Lotion is ideally applied directly after a full bath or showering your whole body. For security every day, the brand offers a long-lasting Deodorant Spray which suppresses or covers up unpleasant odours. The Shower Gel from the range is equally gentle and floral. It removes sweat and dirt left behind.
Liquid Woman by Tom Tailor