Classic Blue by David Beckham
Classic, fresh and sporty - Classic Blue from David Beckham fulfils all requirements and has everyth…
Learn more
David BeckhamClassic Blue Eau de Toilette Spray
€13.19
/ 40 ml
BP: €329.75* / 1000 ml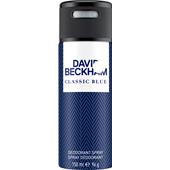 David BeckhamClassic Blue Deodorant Body Spray
€9.19
/ 150 ml
BP: €61.27* / 1000 ml
5/5 AggregateRating
Classic Blue Men's fragrances by David Beckham
Classic, fresh and sporty - Classic Blue from David Beckham fulfils all requirements and has everything that a sporty men's perfume has to offer to be suitable for everyday use. The fragrance, which celebrated its market launch in 2014, was created by perfumer Jean Christophe Hérault together with David Beckham and international fragrance creator IFF. It is sold in a round flaçon with engraving and is in a delicate blue which creates a gentle contrast to the bottle cap, which is dark navy blue. The fragrance line was built around the perfume, which blends into an Eau de Toilette Spray. It is complemented by a Deodorant Body Spray and a shampoo & shower gel.
Body care and fresh fragrances by a football legend
Even though David Beckham came to fame as a footballer, his stature has grown into much more than that by now. Over the past decade Beckham has become a global icon for men and for a certain lifestyle, while simultaneously being adored and lusted after by millions of women around the world, too. With Classic Blue the sports icon has created a mix of body care products and fragrances that is suitable for everyday wear as their freshness is a sure winner. The aftershave in the series ought to be applied immediately after a wet shave to give the skin a freshness kick and in order to prevent skin irritation.
The fragrance of the Classic Blue Perfume
The succinct fragrance of this men's perfume also characterises the Body Spray Deodorant which ensures long-lasting freshness at work, at sport and all other everyday activities. The Hair & Body Wash makes for a subtle fragrance note of the perfume on the skin, while at the same time cleansing body and hair of dirt and residues. The men's perfume itself features a fruity top note consisting of grapefruit, pineapple and violet leaves, which are wonderfully complemented in the heart note with geranium, apple and sage. Moss, cashmere and patchouli make up the natural base.