Classic by David Beckham
Men's perfumes like the
David Beckham Classic
impress with their noble masculine aroma. Our r…
Learn more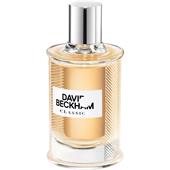 David BeckhamClassic Eau de Toilette Spray
€13.19
/ 40 ml
BP: €329.75* / 1000 ml
5/5 AggregateRating
Classic Men's fragrances by David Beckham
Men's perfumes like the David Beckham Classic impress with their noble masculine aroma. Our range includes many different products with the scent of the well-known and very popular fragrance. Whether Hair & Body Wash, Aftershave, Deodorant Body Spray or Eau de Toilette Spray: The perfume contained in it rests on your body like an invisible veil and gives it total freshness and appealing aromas for the entire day. Those who know the breath-taking fragrances by David Beckham and want to give them away as a gift, can now buy the gift set.
Style and elegance in a flaçon
The fragrance Classicwas created by star perfumer Aurelien Guichard. The aromatic opening is characterised by hints of lime, Gin & Tonic and Galbanum. Cypress, muscat and mint serve to produce a versatile aroma. Cedar, vetiver and amber create a masculine undertone and round this sensual experience off nicely.