Brilliant Brunette by John Frieda
Brilliant Brunette from the House of John Frieda is a hair cosmetic line for all brown tones and col…
Learn more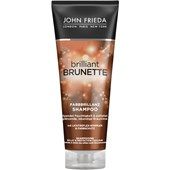 Brilliant Brunette Hair care by John Frieda
Brilliant Brunette from the House of John Frieda is a hair cosmetic line for all brown tones and coloured hair. Regular hair care and the combination of numerous care products revive matt and lifeless hair, giving it a radiant and long-lasting shine. The hair is regenerated from the roots to the ends and the volume increased. The British star hair stylist recommends the hydration products in the Hair Care Series for dry and stressed hair. The hair is additionally supplied with abundant moisture and regains its softness and smoothness.
Selected ingredients in Brilliant Brunette ensure shine and volume
The special John Frieda formula contains only selected raw materials in a balanced ratio. The various colour nuances are highlighted and the hair is made to shine, without additionally colouring it. The Brilliant Brunette Hair Cosmetic Series is available for women with sensitive and dry hair. The hair care products by star hair stylist John Frieda are intended to be combined with each other for a more intensive effect and are ideal for daily use.