Luxurious Volume by John Frieda
The Luxurious Volume
Hair Care
Line by British star hair stylist John Frieda visibly lends wo…
Learn more!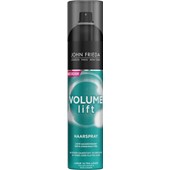 John FriedaLuxurious VolumeLuxurious VolumeLuxurious Volume
BP: €2.80* / 100 ml
Luxurious Volume Hair care by John Frieda
The Luxurious Volume Hair Care Line by British star hair stylist John Frieda visibly lends women's hairstyles more volume, without unnecessarily burdening the hair. The shampoo in the Hair Cosmetic Series gently cleanses the hair and lends it a vibrant volume that feels natural and very smooth to the touch in the hair wash itself. The finishers and stylers in the Hair Cosmetic Series strengthen the individual hair fibres, without unnecessarily burdening them, thus providing the foundation for voluminous hairstyles. Even fine hair doesn't stick and receives enhanced fullness.
More volume and fullness with John Frieda hair care productsThe products in the Luxurious Volume Hair Cosmetic Line can be safely used on all hair structures. Permed and coloured hair can also be treated with the care line. The best results are achieved when the hair care products are used as a mutually complementing system. Finished hairstyles last all day long and are moisture-resistant after being treated with the hairspray in the series. The Luxurious Volume Care Line by John Frieda is suitable for all normal hair types as well as fine hair.