Sir Irisch Moos by Sir Irisch Moos
Men's fragrances that connect and delight whole generations are rarely found. Yet, Irisch Moos is su…
Learn more!
Sir Irisch Moos Men's fragrances by Sir Irisch Moos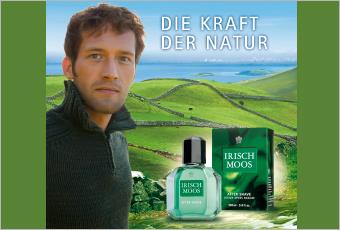 Sir Irisch Moos, the classic amongst fresh men's fragrances
Men's fragrances that connect and delight whole generations are rarely found. Yet, Irisch Moos is such a fragrance. The perfume has been produced since 1969 and this alone shows how popular it still is. Since then, a whole range has been created for the well maintained man, who likes to surround himself with a fresh and green note. Sir Irisch Moos is available as an After Shave, a Pre Shave, a Deodorant and of course as an Eau de Toilette. It is just the right fragrance for a strong man who has a zest for life and is full of energy. Sir Irisch Moos delights in the top note with green chords, coriander, orange, rosemary, bergamot and lemon. The heart note becomes spicy with lavender, cloves, geranium and cedar, before the fragrance impresses in the base with patchouli, tonka beans and moss. Some men's fragrances tell stories but this fragrance is a story. It is not really suitable for a really young man but suits anyone who has two feet on the ground and is at one with himself.