Shaving care by Jack Black
The Jack Black brand was developed in the United States and has been known as a provider of high qua…
Learn more
Shaving care Men's skin care by Jack Black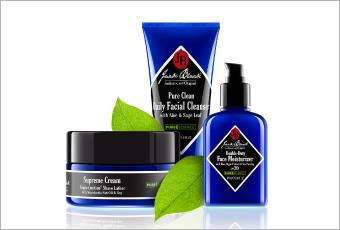 The Jack Black brand was developed in the United States and has been known as a provider of high quality men's skincare and cosmetics products for years across the Atlantic. With the shaving skincare products, Jack Black offers a variety of articles which can be used during or after your daily shave, providing you with sophisticated skincare and an exciting fragrance. The various skincare articles in the striking blue tubs and bottles help to soothe stressed male skin after shaving and provide it with nourishment, which leads to a healthy and cosmetically appealing appearance.
Gentle treatment for the face with men's skincare from Jack Black
Regardless of skin type, all men are familiar with small cuts or inflamed skin after wet shaving. That's why countless Americans choose shaving skincare from Jack Black for their aftershave and to treat their skin in a gentle and targeted manner, with the pleasant side effect of applying a true cosmetic product. For example, you can apply a pleasantly cooling gel from the product range after shaving, which immediately helps to soothe the skin and provides the skin with a wonderful feeling. Subsequent creams help to provide the sensitive male skin with important nutrients after shaving.
Order cosmetics and men's skincare at attractive prices
As important as shaving skincare from a renowned brand name is to many men… an attractive price should also not be forgotten. Our online shop is here to help and offers not only shaving skincare from Jack Black at extremely attractive prices. On the contrary, here you can find the entire men's skincare range from the popular brand, which is available at much cheaper prices online than at your local retailers. For other ideas for your daily shave, for example shaving brushes or aftershave, make an order from our range of further brand articles at attractive prices!