Hippie Yeah by Manhattan
The Manhattan brand is one of the major names in the cosmetic and make-up world. It offers make-up f…
Learn more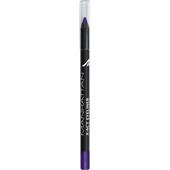 ManhattanHippie Yeah X-Act Eyeliner Pen
BP: €3.79* / 1 pcs.
5/5 AggregateRating
Hippie Yeah Collections by Manhattan
The Manhattan brand is one of the major names in the cosmetic and make-up world. It offers make-up for various facial partitions, impresses due to colourful products and is so multifaceted that every woman is bound to find the right product for herself. A complement to the Collections Series is the new ""Hippie Yeah"" Product Series. In perfect keeping with its name, it uses typical ""Hippie"" colours. On no account is that meant to be negative or derogatory, as the soft, colourful make-up products are extremely beautiful and ensure a successful appearance.
Splendid colour diversity for unique looks
The Hippie Yeah Collections Product Series by Manhattan makes every woman one of a kind. The products can be easily coordinated to meet individual tastes and complexions, but still appear unique, friendly and open on the wearer. The multifaceted make-up line allows you to lend expression to your good mood and turn it into an immediate eye-catcher, while at the same time relying on the highest quality from the House of Manhattan. The colourful products are a perfect choice, especially in the warm season of the year and on holiday.