Miu Miu by Miu Miu
Miu Miu is part of the Prada Group. Miuccia Prada, as master of the contradiction, combines the unus…
Learn more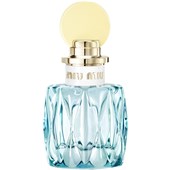 Miu MiuMiu MiuL'Eau BleueEau de Parfum Spray
BP: €1,959.00* / 1000 ml
4,5/5 AggregateRating
Miu Miu Women's fragrances by Miu Miu
Miu Miu is part of the Prada Group. Miuccia Prada, as master of the contradiction, combines the unusual with the sophisticated. Her skills always produce something quite unexpected. The fragrance presents itself elegant and sensual, and imparts an aura of mystery to the subtle glamour.

Just like the perfume itself, the bootle also has something contradictory and plays with the matt, pale blue glass and a wonderful quilted pattern. This reminds of the typical Matelassé pattern of a Miu Miu handbag. The white, matt collar is at once traditional and trendy. A very striking red disk crowns the bottle and gives it a something playful and graphic. The warm tone matches the coolness of the blue tone perfectly and gives the appearance of the bottle a certain extravagance.

The face of the ad campaign in the remarkable model Stacy Martin. With her unique personality, soft, ultra-feminine and slightly angular face, she embodies the essential values of Miu Miu. Her strong eye make-up, pulled back hair and dress in a pattern and colour to match the bottle remind one of an optimistic film from the early 60s and of care-free times. This sets the scene wonderfully for Miu Miu and its playful style.