Elite by Floris London
Floris London has already existed for more than 280 years and some of the men's fragrances have also…
Learn more!
Elite Men's fragrances by Floris London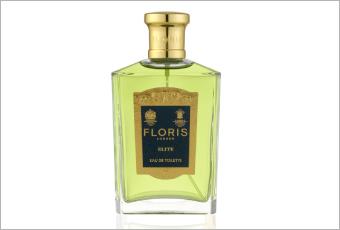 An eau de toilette like a perfume
Floris London has already existed for more than 280 years and some of the men's fragrances have also been available as timeless classics for just as long. Yet, Elite is still a very young Floris London fragrance. It was first created in 1979, but its roots date back to the Elite Aftershave, which was developed in 1851. Here, it has again been proved that the Floris London men's perfumes are unusual and often have extraordinary stories to tell.The eau de toilette really does develop like a perfume. Soft woody notes combined with bergamot, lemons, oranges and cedar leaves impress in the top note. Juniper berries, lavender, balsam fir, vetiver and patchouli are added in the heart. The fresh masculine fragrance is borne by mossy accords, amber, musk and a touch of leather. Such men's fragrances really are for accomplished men, who can do without large gestures and are sure of themselves. Elite is of course also available as aftershave and aftershave balm as well as soap, shaving soap and bath and shower gel.