Santal by Floris London
The Santal Eau de Toilette Spray is based on a men's perfume dating back to the 18th century that pr…
Learn more!
Santal Men's fragrances by Floris London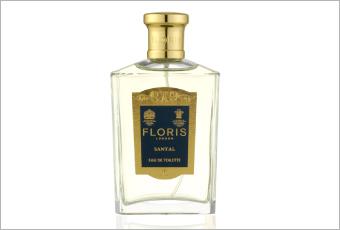 Experience one of the unbelievable Floris London men's fragrances with Santal
The Santal Eau de Toilette Spray is based on a men's perfume dating back to the 18th century that predominantly consisted of sandalwood. Inspired by modernity and freshness, Floris London, the perfume manufacture in Jermyn Street in London, has been reproducing the fragrance since 2002. Santal is definitively one of the men's fragrances that can be worn by all men who are aware of their masculine charisma. Black pepper, cardamom, bergamot, lemon and green grass set the tone in the top note. The story continues in the heart of the fragrance with the spices nutmeg, lavender and clove.The base of the men's fragrance then becomes really luxuriant, as amber, musk, vanilla, vetiver, incense, cedar wood and sandalwood all meet up there. In the first moment, the fragrance may seem somewhat too subtle, but the Floris London men's fragrances like to be good for a surprise. In contrast to a perfume, this fragrance needs a little warm-up time, but it then accompanies you for even longer. There are of course matching aftershave, shower gel and an aftershave balm available in the same wonderful fragrance.