No. 89 by Floris London
Jermyn Street 89 in the noble London district of St.James was and still is the domicile of the perfu…
Learn more!
No. 89 Men's fragrances by Floris London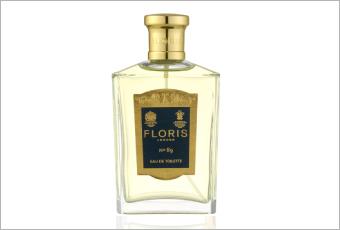 Men's fragrances from Jermyn Street No. 89
Jermyn Street 89 in the noble London district of St.James was and still is the domicile of the perfume manufacture Floris London, and has been since its foundation more than 280 years ago. Numerous men's fragrances have left the tradition-steeped house during that time. The formulas of some have remained unchanged for hundreds of years. In comparison, No. 89 at almost 60 years old is still a stripling. However, that does not mean that the eau de toilette and the associated care series have any reason to hide, quite the contrary. Many of the Floris London men's fragrances are eaux de toilette, but are more reminiscent of a perfume due to their richness and stability and the masculine No. 89 is no different. The top note is composed of bergamot, bitter orange, lavender, nutmeg, neroli and oranges. The heart becomes a little floral with geraniums, ylang ylang and roses. The strong base then trumps with cedar wood, vetiver, sandalwood, musk and oak moss. With this fragrance and the associated line, Floris London celebrates all men who have both feet firmly planted on the ground and have no need to prove their masculinity.