Bio-Elita by Ingrid Millet
Bio-Elita from the institute of Ingrid Millet Paris is a facial care range for women with the best a…
Learn more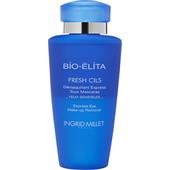 Ingrid MilletBio-Elita Fresh Cils Eye Make-up Remover
BP: €247.60* / 1000 ml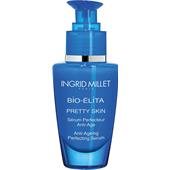 Ingrid MilletBio-Elita Anti-Ageing Perfecting Serum
BP: €2,048.75* / 1000 ml
5/5 AggregateRating
Bio-Elita Facial care by Ingrid Millet
Bio-Elita from the institute of Ingrid Millet Paris is a facial care range for women with the best anti-ageing properties, which was developed based on biotechnological findings. The highly active ingredients in the cosmetics products stimulate the vital functions of the facial skin. Meanwhile, skin that has been damaged over time is repaired and protected. The synchro system, specially developed for more mature skin, helps to regulate oxygen enrichment through accelerated stimulation of the metabolism and to reinvigorate the skin with a hydrolipid complex. The highly concentrated active ingredients reduce lines and wrinkles and restore the skin's natural barrier.
Anti-ageing care for the highest requirements – Bio-Elita
The Bio-Elita cosmetics line from the institute of Ingrid Millet Paris includes a complete range of day and evening care products for women and can also be purchased as a gift set with pretty outer packaging. The formulae in the concentrates, serums, lotions and creams of this Ingrid Millet facial care range have been devised for normal, dry and mature skin and are based on the five decades of knowledge and experience of the French beautician. The cosmetics range is suitable for daily facial care and can be used as a base for make-up.