Oil Fiction by Juliette has a Gun
The Oil Fiction fragrance range from the Juliette Has A Gun brand came out in 2013 and is defined by…
Learn more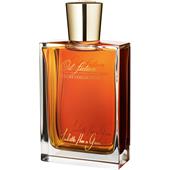 Juliette has a GunOil Fiction Eau de Parfum Spray
BP: €287.93* / 100 ml
Oil Fiction Women's fragrances by Juliette has a Gun
The Oil Fiction fragrance range from the Juliette Has A Gun brand came out in 2013 and is defined by a high-quality Eau de Parfum Spray. The brand with the memorable name heralded its own unisex fragrances with this creation which are henceforth meant to represent an alternative to pure women's fragrances. The brand's perfumers and designers know how to amaze both in appearance and in fragrance with a timeless creation which, thanks to exciting facets and a timeless core, is perfect for men and women alike. The fragrance is available in a limited edition, which is why this range is available in a limited stock and time frame. If you can get your hands on the Oil Fiction scent from Juliette Has a Gun, you'll have yourself a real curiosity in the bathroom in the long-run.
Timeless looks and classic fragrance notes - for men and women
The line's unisex fragrances are exceptionally diverse since the perfume uses a particularly multifaceted middle note, which will be a new adventure for even the most experienced of noses. The beginning is made by the top note which consists of just one ingredient which is used particularly prominently here: Calabrian bergamot. The zesty prelude flows into the core where, amongst others, amber absolue, iris absolue, labdanum and papyrus are used. There's hardly enough of this however, as the Oil Fiction perfume goes beyond the typical male scents of saffron and tuberose absolue to really capture the Orient. Patchouli and ylang ylang finally build up the frame surrounding this unbelievably varied core note. The Juliette Has A Gun perfumes combine the base notes of the unisex fragrance with vanilla sandalwood and ambroxan.