Tan & Protect by Piz Buin
With the Tan & Protect sun care range from the House of Piz Buin, men and women can enjoy the summer…
Learn more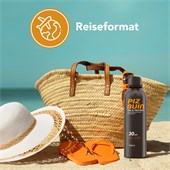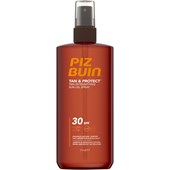 Tan & Protect Sun care by Piz Buin
With the Tan & Protect sun care range from the House of Piz Buin, men and women can enjoy the summer sun without any worries. The special technology used in this range of cosmetic products increases your body's own production of tanning pigments while also offering sufficient protection against UVB and UVA rays at the same time too. The oily consistency of the spray is easy to spread over your skin, is resistant against sweat and is above all waterproof too. The oil absorbs immediately and without any residue, ensuring your skin is soft and supple and has a silky sheen thanks to the special active ingredients in the product.
Intensively accelerated tanning and effective sunscreen
Thanks to the special formula and Melitan technology developed by Piz Buin, your tan will develop after a short period of time even with the LPF and SPF properties in the sunscreen. The premium sun care product is suitable for men and women with normal skin and should be used prior to sunbathing, going swimming and any other occasion where you are exposed to an increased level of solar radiation. Tan & Protect is available in the summery range of cosmetic products as a rapidly absorbing Lotion, Oil Spray in a pump-action bottle or as part of a Gift Set contained in beautiful gift packaging.