Flaunt by Sebastian
Flaunt is one of the professionally designed styling ranges by Sebastian, which ensures a
natural… Learn more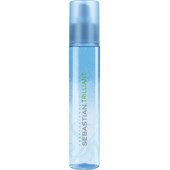 SebastianFlaunt Trilliant Thermal Protection and Shimmer Complex
€23.95
/ 150 ml
BP: €159.67* / 1000 ml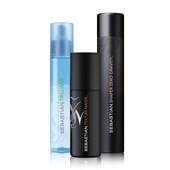 SebastianFlaunt Set
€65.85
/ 1 pcs.
BP: €65.85* / 1 pcs.
4,5/5 AggregateRating
Flaunt Hair care by Sebastian
Flaunt is one of the professionally designed styling ranges by Sebastian, which ensures a natural and effective shine - for every hairstyle and every look. The Finish hair care of the range uses various rock crystals, which result in a matchless and distinctive WOW factor. The rock crystals also come into play in the visual presentation of the range, since a large part of all products are radiant in an Australian blue, even the Wax Paste is placed in a blue-black contrast. Thus it is a hair cosmetic range which allows excellent finishes, offers a unique shine, and outfits the bathroom with the colour of rock crystal.
A hair care range with Wow factor
The range uses various finishes, which differ in intensity and hold. Likewise a pure gloss finish can be chosen, which offers a natural finish for lightly styled hair. The Sebastian products from the Flaunt range command a weightless effect, which is why the hair is not unnecessarily disturbed despite the outstanding shine. Thus waves or curls also survive, and the hair can also appreciate it since it is not sticky. This guarantees durability.