Batman Parfum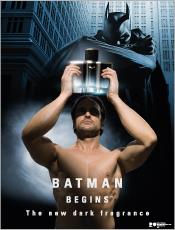 Batman is not only the hero of our childhood days long gone per se (besides Mickey Maus of course), but is nowadays also a guarantor for box office success. At the very latest since the new interpretation by Christopher Nolan, who delivered a trilogy that was hailed as a great success by critics and fans alike, Batman has moved back centre-stage into the limelight. The dark saviour of the night, who made the bat his trademark, is not just popular on the big screen, as comic book or comic book convention, but more recently also worn on the skin. Box office success and the iconic character's near endless popularity ensure that the black bat is soon to be found in many households as well.
A perfume for true heroes
The fragrance and beauty product line is called ""Batman Begins"" and thus allude to Christopher Nolan's first film in the trilogy that saw the black saviour advance to his iconic stature, which he then masterfully completes in the final part. The perfume smells pleasantly tart and masculine, but just like the comic strip character also myersterious and somber. These masculine fragrances are therefore ideal for men that like to wear a succinct and unambiguous scent. Naturally, this perfume comes in a bottle that attracts everyone's attention. Packaged in a blue-black bottle with the famous bat logo emblazoned on the front.
Multi-facetted fragrance line from the black bat
Batman Begins consist not only of the perfume Batman Begins, but also includes a range of other beauty products. The collection boasts for example also a deodorant stick that provides you with the same fragrance accords as the perfume. The line is rounded off nicely with a body-care shower gel that gently cleanses while at the same time hydrating the skin. The aftershave is the perfect care for skin after shaving, calming it and making sure irritation, redness and razor bumps don't get a chance. All products contain fragrance nuances that are used in the perfume as well.