Fragrances of Grès
The tradition of all fragrances by
Grès
goes back for more than half a century. In 1958, Germ…
Learn more
4,5/5 AggregateRating
Grès Fragrances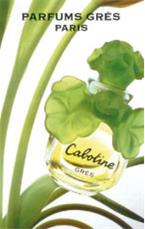 The tradition of all fragrances by Grès goes back for more than half a century. In 1958, Germaine Grès released his first perfume, which was Cabochard, which quickly led to her breakthrough in the industry. By this point, she was already an established name in the Paris fashion world and always set new trends by participating in the creation of fashion collections and perfume into old age. The new fragrances by the French company have been available since 1990 and appeal to the tastes of younger women.
Traditional and modern fragrances with a French flair
The traditional Cabochard fragrance is offered under the brand name Grès to this day. Furthermore, the Cabotine edition is the first perfume under the new label, which has become an internationally recognised name. The product series combines the traditional character of the brand with fresh and natural notes, which are especially valued by young women, and which can be used every day at work as well as during your free time. In our online shop, both collections play an important role and are available to order online at reasonable prices.