Toiletries of Misslyn
The new cosmetics label Misslyn Beauty Products and Accessories, which always perfectly complement t…
Learn more
2/5 AggregateRating
Misslyn Toiletries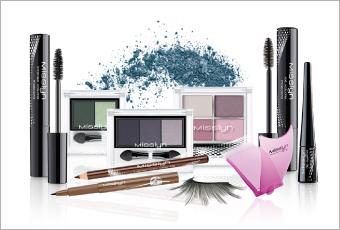 The new cosmetics label Misslyn Beauty Products and Accessories, which always perfectly complement the hottest current looks, always has its finger on the pulse. Every six weeks the fashion-oriented company creates a current colour collection that picks up on the newest fashion trends and rounds them off wonderfully. With the extended portfolio the company continues to focus on lash and nail styling and is complemented by innovative and fresh make-up collections.
Make-up creations for trend setters
The creative cosmetics range by Misslyn was designed for young, trendy women who like to add to their fashionable looks with tailored beauty styling. Thanks to the always up to date colour collection, your nails and face become your new fashion accessories with Misslyn. Then nothing completes a fashionable look better than tailored make-up and nail styling. No matter whether seductive strips of lashes, hot nail polish colours or velvety lipsticks – with the beauty highlights from the cult label for skin, eyes, lips and nails every woman can emphasise her individual style and show off her individual beauty. The brand-current colour collections invite you to play with different styles and give you the opportunity of reinventing yourself every day.
Did you know?
Your beauty, your colours, your style
Barely any other company is as flexible as Misslyn. The label's colour palette features caring make-up with brilliant colours for the complexion, eyes, lips, and nails. Of course, you don't have to miss out on hair care or nail care either. Every well-stocked department store carries Misslyn products, which can be found in the lower price segment but are extremely high-quality and, most importantly, fast. Did you know that the company can launch a new collection of hot on-trend colours on the market every six weeks? Naturally, this also includes Misslyn Nail Polish. Beautiful polishes in an array of colours with brilliant effects will make you want to repaint your nails every day.
The Misslyn Velvet Diamond nail polish with its glittery particles is particularly eye-catching. The mixture of an elegant matte colour that, when dry, begins to sparkle as if it is full of slivers of diamond makes Misslyn Velvet Diamond the perfect finish for your make-up. The diversity of Misslyn Nail Polish makes many other brands go green with envy because, in addition to the gorgeous nail polishes, which are available in every colour and, of course, without glitter, Misslyn also sells nail stickers and quick nail designs. Tailor your nail polish to your make-up or vice versa. Misslyn Nail Polish always ensures the right look; from drama to business, from red carpet to trendy shabby chic - everything is possible.