Fragrances of Strenesse
Strenesse is not just a listed company, it is also a testament to the fact that
fine women's frag… Learn more!
Strenesse Fragrances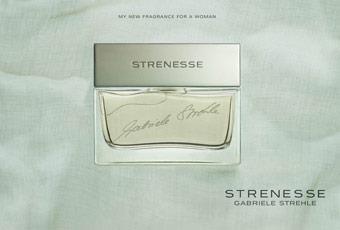 The finest perfumes made in Germany
Strenesse is not just a listed company, it is also a testament to the fact that fine women's fragrances, which enjoy success all over the world, are also made in Germany. At the time of foundation in 1949, nobody was thinking about perfume, simply because clothing was more important in the post-war years. Ten years later the Strehle family had made an outstanding name for itself in the field of coats and women's suits. It was only when Gabriele Strehle entered the company in 1975 that Strenesse began to reorient itself, while remaining true to its own line at the same time.Perfume, make-up, jewellery, young fashion, accessoires, as well as success extending from Tokyo to New York, from Berlin to London and Paris, proves the family-run company right. Gabriele Strehle is the person behind the successful perfume line, as well as behind the worldwide success. All women's perfumes by Strenesse are distinctive due to the simplicity of their composition. Less is more is one of the company's highest priorities. Each perfume bears the names of its main components, thus making it easy for fans, and those who would like to become fans, to find the right women's fragrances for themselves.